For all of the Oshow followers out there, I'm going to give you a heads up before you start reading this post. I'm not happy with what's been going down in Friartown lately, so if you're ready to read some crap about how the Villanova loss didn't matter because they played hard than you're in the wrong place. Here's what's been running through my head about the PC Friars over the past few weeks…
-Here's one way to start a post: Bryce Cotton is overrated. Yup, I said it. He may go unnoticed nationally, but he's overrated locally. Yes, Bryce can score, but so could Marshon. Yes, Bryce made the Sportscenter top 10 a couple of nights ago, but so did Rob Sanders back in his day. As a point guard, Bryce Cotton just isn't that good. When the offense runs through him, it's stagnant. When we need to convert a big bucket, he rarely makes the right decision. When we should work the ball down low, he takes a deep three. When we need a deep three, Bryce forces a pass down low. Yes, there are more problems on this team than Bryce Cotton, but in my eyes, he is one of them.
-I really started to think that Josh Fortune was turning a corner. He has been much more efficient offensively over the past several games. He was making better decisions with the ball, and working harder to get open off of the ball. He was even asserting himself defensively. And then Josh Fortune committed 7 turnovers in Tuesday's game against Villanova, threw away two critical passes in double overtime, and officially earned himself a permanent spot on my shit list…right next to Marshon Brooks and Joe Young.
-Tyler Harris should have his scholarship revoked. All I keep hearing from Scottie and his other bandwagon buddies is that Harris is still young and he's essentially a freshman because he didn't really play in his first season at NC State. Guess what…I don't care. His basketball IQ is about as good as Scottie's knowledge base about anything sports related (which is essentially 0)! The kid just can't make a good decision. I'm sick of his juvenile shit. Revoke the scholarship and get him outta town!
-Kadeem Batts is the best NBA prospect on this team. The guy battles down low. He's finally learned how to utilize his body and girth underneath. He has a pretty good mid range jumper which has only improved over the past 4 years. Kadeem is the real deal and I hope he starts to get some looks in the league.
-Lee Goldsbrough is about as useful as a piece of gum on the bottom of your shoe in the middle if August.
-Brice Kofane isn't much better.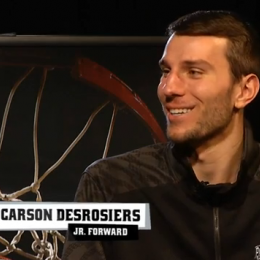 -I don't really understand Carson Desrosiers' lack of playing time. I know he gets himself into foul trouble on occasion. However, you can't tell me that he isn't more useful than Tyler Harris. At least Carson tries to play defense. I say we put Desrosiers in the starting 5, bump everyone down a spot and really start to limit Tyler Harris' minutes.
-If the Friars want any shot at the tournament they need to win out and then make some waves in the Big East tournament. However, with how PC plays on the road, it's much more likely that they shit their pants over the next 4 games and miss the NIT.
-I've always considered myself and optimist when it came to the Friars. Ask anyone. Talk to Scottie. Talk to my fellow friar faithful CV. I've always thought that the Friars could win every game that they've played. Yet, this team has sucked the life outta me. I'm done with PC basketball. The constant crushing defeats have worn me out. I just can't do it anymore…
Filed under: Big East, College Basketball, Providence College Friars | Tagged: Brice Kofane, Bryce Cotton, Carson Desrosiers, Josh Fortune, Kadeem Batts, Lee Goldsbrough, PC Friars, Tyler Harris | 2 Comments »